Wednesday morning a wide variety of law enforcement officers, headed into the Sierra to eradicate thousands of marijuana plants growing at multiple sites.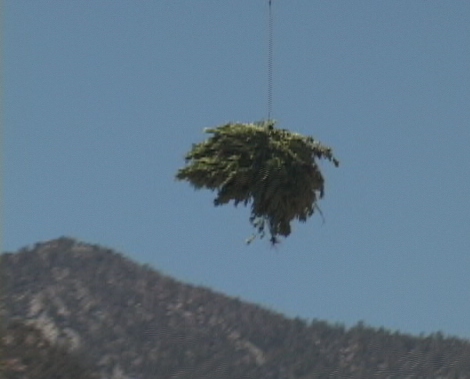 Inyo and Mono Sheriff Deputies, along with police from Bishop and Mammoth, joined Forest Service Agents, BLM, Fish and Game, and the State Campaign Against Marijuana Planting officers to work these grow sites in the Sierra near Lone Pine and Olancha.
The officers met early in the morning at the Lone Pine Airport to finalize strategies before splitting up to raid the farms, one which was near Georges Creek and the other near Haiwee Canyon south of Olancha and Cartago. Sheriff Lutze said that officers also went into the Thibault area north of Independence. More information was expected to come out on sites and numbers of plants.
Inyo Sheriff Bill Lutze explained that the grow sites had been spotted by air on routine flights in recent weeks. Other sites were found by officers on foot. All of these large grow sites are connected to drug trafficking organizations from Mexico.
Officers were prepared and armed for the possibility that a grower might shoot at them. A CAMP officer explained that officers in other areas have been shot at twice this summer. An officer on a grow site eradication in Lassen County was shot twice. The officer survived, while the grower was killed in the gun battle. The CAMP officer explained that other times, the growers shoot at law enforcement because it buys time for the growers to escape.
No shots were fired Wednesday. At the grow site on Georges Creek, officers found that the camp had been abandoned some time ago and the marijuana left to die. At Haiwee Canyon, officers were closer to catching the growers. Signs of ten people were found at the camp, but the growers, perhaps tipped off by the sound of the approaching helicopter, had left. Officers reported that the breakfast at the camp was still warm, indicating that the group had recently left.
With months to plan their escape, no one at the sites was arrested at last word. A CAMP officer we spoke to explained that the growers usually hunker down and return to check on the garden once law enforcement has left the area.
Helicopters flew load after load of 10 foot tall marijuana plants out to the waiting dump truck for disposal. In the coming weeks the Forest Service will head up Haiwee Canyon to try and clean up the site.
At news time, officers were working a third site on Thibaut Creek near Independence. 15 foot high plants were reported. How many plants were eradicated in the raids today has yet to be tallied.