Press release
Mammoth Lakes, CA,– As Sierra Club celebrates its 125th anniversary, the local Range of Light Group is proud to be turning 25 years old.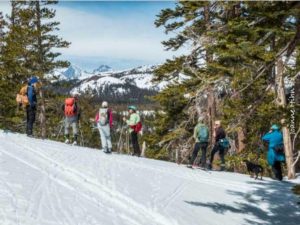 On the evening of July 22, 1992, a group of inspired conservationists met at the home of Bette and Don Goodrich to discuss forming a new Sierra Club group in the Eastern Sierra. At the time, there was an Eastern Sierra Committee of Sierra Club's Toiyabe Chapter, which included the "Mother of Nevada Wilderness," Marge Sill, but there was no group dedicated to Inyo and Mono Counties.
Bette had been a National Outings leader for Sierra Club and decided to spearhead the effort. At that very first meeting, the name Range of Light Group (ROLG) was selected and preparations were made to draft bylaws. In less than two weeks, Toiyabe Chapter had approved this new Sierra Club Regional Group which was formed to provide not only a local conservation focus, but also to sponsor outings and social events.
In 2017, ROLG is still going strong, thanks to all the dedicated volunteers who have contributed their time and energy over the years. Some accomplishments include: successfully suing the FAA to prevent a major expansion of the Mammoth Lakes Airport, supporting a land exchange with the US Forest Service which protected 1900 acres of wild and riparian lands, working with regional partners to gain LADWP's cooperation in re-watering the Lower Owens River and re-establishing historic Blue Diamond cross country ski routes on US Forest Service lands.
From the beginning, ROLG has organized monthly potluck meetings and guest speakers have shared their knowledge on varied topics such as public land management, endangered species and outdoor recreation. The popular outings program also started the first year. Over one-hundred trips are offered annually, and they incorporate elements of history, natural science and environmental education.
Outings range from summer flower walks, canoe/kayak trips, and hiking adventures to on-snow excursions. ROLG's outings and meetings are open to everyone, not just Sierra Club members!
To celebrate the ROLG's Silver Anniversary, a barbecue has been planned for August 13th at Mono Lake County Park. Dinner starts at 5:00, but guests can arrive early to explore the boardwalk and enjoy beautiful views of Mono Lake. Those interested in attending should RSVP to [email protected] or [email protected], and bring a side dish to share, beverage, chair and a non-disposable place setting.