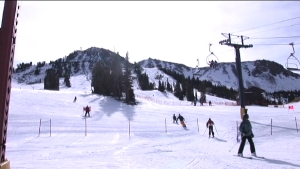 The California Department of Water Resources has conducted its first snow survey of the winter. Officials said they found "more bare ground than snow."
According to a news release from the DWR, "Manual and electronic readings record the snowpack's statewide water content at about 20% of average for this time of year." DWR Director Mark Cowin said that the State is "fully mobilized" to take every action possible "to ease the effects of dry weather on farms, homes and businesses as we face a possible third consecutive dry year." He calls on all of us to make water conservation a daily habit.
According to DWR, the snowpack readings now and in 2012 are the driest on record for this time of year. The northern California mountains show 11% of normal for now. The central Sierra shows 21% and the southern Sierra, 30% of normal for this time of year.
Rainfall at the end of 2013 was also low, according to DWR. They report that downtown Los Angeles which has averaged nearly 15 inches of rain since 1906, ended the year with 3.4 inches.
DWR weather watchers point out that it is still early in the season and this winter could still turn out wet. DWR does have a drought management team which reportedly will make sure areas of critical need get water transfers. They have also vowed to monitor water supply impacts in small rural communities whose groundwater sources are stressed by prolonged dry conditions. It's unclear what the State will do for these areas, which define the Eastern Sierra.
Meanwhile, the Department of Water and Power has begun to measure the snowpack. Their website keeps track of the water content of Mammoth Pass as a Hallmark of the snow year, and DWP provides snow and precipitation measurements in all areas of Inyo and Mono.
Mammoth Pass snowpack water content measures 3.3 inches as of December 19th. That number is well below last year and also below the long-term average. Right now, the measurements sit slightly above the driest snowpack on record in 1976-77.
Snow pillow measurements show Mammoth Pass at 13% of normal to date. Rock Creek, 68%; South Lake, 49%; Big Pine Creek, 25%; and Cottonwood Lakes at 122% of normal to date.
On the precipitation side of things, Long Valley sits at 9% of normal to date. Bishop, 20%; Big Pine, 50%; Independence, 81%; South Haiwee at 15% and Los Angeles at 21% of normal to date.