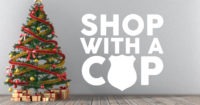 SHOP WITH A COP ADAPTED FOR 2020
 Shop with a Cop is alive and well in 2020, with some tweaks.
The program brings law enforcement branches from Mono and Inyo Counties together with a special selection of East Side grade school children to all go shopping for gifts for family members.
In past years, the event involved a noisy parade of cop cars down Bishop's Main Street headed to Kmart to shop 'til they all dropped. The kids and the cops went careening through the aisles piling gifts into carts, through check-out and on to the wrapping tables. The gifts would be delivered right before Christmas.
It was chaos, but good chaos.
Since Kmart has abandoned the Eastern Sierra, this year may be less chaotic, but the end result will be the same.
Daniel Hansen, Mammoth Police Department school resource officer, laid out the plans at last week's Town Council meeting. The program has gone hi-tech and sort of virtual. Instead of carts and KMart, the kids go on-line to Walmart. Officers from Mammoth PD and Mono County Sheriff's Department get to do the actual on-line shopping and wrapping.
Inyo Sheriff's Department and Bishop Police Department will be doing the same thing. "We did an outreach to Owens Valley schools in October," said Jessica Scida, police services technician for Bishop PD. "If the kids couldn't find what they wanted on Walmart's website, we went to Amazon."
If some of the youngest children had trouble finding what their family members wanted for Christmas, the staff would follow-up with calls to the parents to make sure they were on the right track. The gifts will be dropped off by law enforcement December 12, with cop cars substitution for a sleigh pulled by reindeer.
But what about the noisy parade with sirens and lights? That element of the event was resolved by the Tri County Fairgrounds.
Also on December 12, the fairgrounds will is hosting "Home for the Holidays." After the Outdoor Craft Fair, held from noon to 4 p.m., there will be a drive-through Parade Display of Christmas lights between 5 and 7 p.m. The grand finale is a showing of Elf from 7:30 to 9 p.m. in what has become Bishop's own drive-in movie theater.
With a summer of smoke, nearly a year in varying degrees of isolation from COVID-19 and then the devastation of the Mountain View Fire, the East Side needs a heavy dose of  Christmas cheer and this should fill the bill.