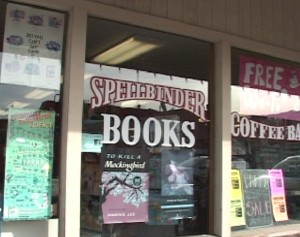 December 14 ~ ICARE Shopping Day @ Spellbinder Books, 124 S. Main, Bishop
Spellbinder Books and ICARE invite you to the 14th Annual ICARE Shopping Day on Saturday, December 14th. Just purchase a $5 ICARE Donation Ticket at the store from 10 am to 6 pm and receive 20% off a wonderful selection of books, calendars, greeting cards and assorted gifts. There will also be a drawing for prizes. Your $

5 donation goes directly to ICARE

 and helps the Eastern Sierra's homeless pets in need. Happy Holidays!
Spellbinder Books is located at 124 South Main Street in Bishop. If you have questions about this event, please call Lynne at 760-873-4511.
Proceeds from this event go directly to Raise the Roof—a Cause for Paws, a fundraiser for the new Animal Shelter and Pet Adoption Center to be constructed in Big Pine, California. Please visit our web site at www.ICAREforPets.org for the photo album and video tour of the current facility.