Shirley Anne Scholl passed away peacefully at the age of 92 in Bishop. Shirley was a third generation native of Riverside, CA and made her home in the Eastern Sierra for the past 30 years.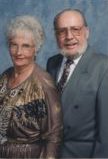 She was loved by all who knew her. Shirley and husband Bill helped organize "Fireside Friends" at the United Methodist Church and Shirley was also involved the United Methodist Women's groups.
Shirley is survived by her son Rocky Jack Scholl and wife Karen, son William Maurice Scholl Jr. and wife Merry, five grandchildren, eight great grandchildren, and numerous nieces, nephews, and cousins.
Those who wish, may make donations to the United Methodist Church, 205 N. Fowler Street, Bishop, CA 93514 in memory of Shirley Scholl.
A memorial service will be held to celebrate Shirley's life, Friday, September 8, 2017, at 2:00 PM at the United Methodist Church, 205 N. Fowler, Bishop, CA 93514