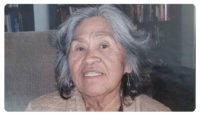 With heavy hearts the family of Shirley Maddox announce her passing on June 24, 2022.
Shirley was born on April 9, 1940, in Schurz, NV to Elsie and Sam Kinney. Shirley was a proud member of the Bishop Paiute Tribe and lived most of her life in Bishop.
Shirley married the love of her life, Dusty Maddox, on July 8, 1961.They were married for 39 years before he passed away. They had four children; Rhonda, Darrell, Karl, and Karlinda.
Shirley began her career at Northern Inyo Hospital in 1973 and retired in 2005.
Shirley loved her family tremendously. She enjoyed hosting family gatherings; and often insisted on cooking dinner for everyone. "Cooking for an army," as she would say, was a habit she couldn't break! She found great joy in the kitchen and always tried recipes she seen on the Pioneer Woman. But when it came to TV, she was addicted to The Young & The Restless.
She always made sure she was home in time for her soaps, even if that meant cashing out early
from the casino! Shirley was a social butterfly. She liked attending local events such as the Christmas Bizarre, and CA Indian Days. Every year she entered the cook-offs and was so proud when she won.
However, her most favorite past time was sitting on her porch, sipping her morning coffee. She
would sit outside for hours by herself or with loved ones. It was a special time for her to
reminisce. Shirley also attended The House of Mercy Pentecostal Church every Sunday.
She had the best sense of humor and loved to laugh; she made everyone around her laugh with
her quick-wittedness. She never failed to make someone blush with her crazy remarks! She
wasn't afraid to speak her mind either; she was blunt and could whip you into shape with her
wise words. But it was always out of unconditional love.
The passing of Shirley leaves a void in the hearts of many. She will be missed beyond measure.
Shirley is preceded in death by husband Dusty Maddox; parents Sam and Elsie Kinney; brothers Fred, Sam Jr, Harold, Lawrence, and Chester Kinney; sister Dorothy Barlow; great- grandchildren Shirley Eden Brown, Naomi Lurie, and Jay Yellow Hawk Schultz; along with several other relatives. Shirley is survived by daughter Rhonda Schultz; son and daughter-in-law Darrell and Antoinette Maddox; son Karl Maddox; daughter and son-in-law Karlinda and Ed Keller; grandchildren Chad Delgado, Taleah (Winston) Turner, Shawnee (Cody) Leslie, Lidia (Jason) Schultz-Forehand, Elsie (Aaron) Rave, Weston (Jessie) Maddox, Jolie Varela, Ciera (Eugene) Heavy Runner, Shilo Schultz, Andrea (Anthony) Keller, Chevy Schultz, Eddie Keller, Miranda Maddox, Darrell Maddox Jr, Karly Maddox, Dustee Maddox, and Roxy Maddox; 30 great-grandchildren; five great-great grandchildren; and numerous other relatives.
A cry dance will be at her residence on Friday, July 1, 2022, at dusk; funeral on Saturday, July
2, 2022, at 11 AM at The House of Mercy Pentecostal Church; burial at Sunland Indian
Cemetery, and potluck at Barlow Gym.