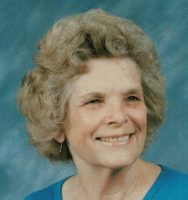 Shirley Keith French
1931-2022
Funeral services will be held for Shirley "Keith" French, 90, on April 2, 2022 at the East Line St. Cemetery at 11 am with a gathering and lunch to follow at Calvary Baptist Church. Pastor Rick Klug will officiate.
Keith passed away in her home in Bishop on the evening of March 15, 2022 surrounded by family. In 1928, her parents Ray and Fae Billups moved from Texas to Los Angeles where Keith was born on June 19, 1931.
After graduating from John Marshall High School in Los Angeles in 1949 Keith went to work for California Bank and soon married her high school sweetheart Charles Allen Brown with whom she had two children.
Keith came to Bishop in 1954 to stay with her father and step mother who built and managed the Piute Lodge (Trees Motel today). Her third child, a son, was born from her second marriage to Kenneth Cordell Wagoner in 1955. Later, Keith worked for Bank of America and married Bill French. Subsequently, they moved to Sacramento where they had three children. In 1964 the French family moved back to Bishop and purchased the Inyo Mono Inn, later renamed Keith French's Country Inn (now the Sierra Station). Keith operated that business until 1976. The next 28 years were full of adventures that included Keith's family-owned cabin cleaning crew known for driving the "Blue Submarine" (an old Suburban) up and down Sherwin Grade to work in Mammoth and Convict Lake. Keith's most cherished work, however, was serving as an aide to the elderly for Inyo County from 2004-2007.
Keith was known for her big heart of hospitality as she was always ready to lend a hand to those less fortunate. Her experience operating her own motel influenced her yearning to always make sure people had a roof over their head and there was always work for those who were willing. She would go out of her way to help a friend or a stranger. She had an inner strength that most people long for and was admired by many. Along the way Keith and other family members met Jesus Christ as their Lord and Savior and also found that "With God All Things Are Possible." Matthew 19:26
Keith was preceded in death by her son Greg Brown and two grandchildren. She is survived by her daughters Georgia Gardner and Helen French, son and daughter-in-law Wes and Vickie French, son and daughter-in-law Tony and Lora French, son and daughter-in-law Glenn and Renee Raines, seven grandchildren and 13 great grandchildren.