A group of local people has spent five months of what they call intense collaboration on proposals for winter and summer recreation in the Sherwin area of Mammoth Lakes basically the area south of town. Now, they want public input.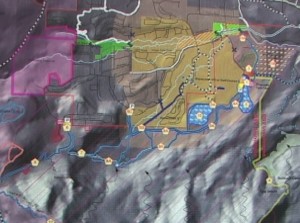 You can check out the maps and the proposals at the Town Tourism and Recreation Department and a number of other places.
The group of 25 to 30 locals came up with winter and summer proposals that range from public transit to trailheads, to kite sking, motorized and non-motorized activities, signage, snowplay and trails. Summer includes connections to parks and other outdoor areas, summer trails, mountain bike trails, dog areas and historic sites.
They need your comments by October first. Check out the maps and the proposals at Mammoth Lakes Library, Mammoth Powersports, Footloose Sports, Mammoth Pet Shop, Mammoth Community Water Distsrict, Snowcreek Athletic Club, MLTPA offices and the Town Tourism Department.