US Forest Service press release
Thanks to our engineering crew for their work yesterday to re-open the Sherwin Creek Road. The northwest loop of Sherwin Creek Campground and some maintenance work will be needed to clear the sites after flood damage.
The two photos are a before  and after from roughly the same location (look for the two V trees for reference).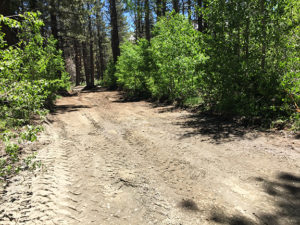 Many of the roads have storm damage that we are starting to see as the snow melts and the creeks rise. Be extra cautious while travelling on the roads since they may be undercut, have deep gullying, and be water saturated. Be safe!
If you see the engineering crews out there, thank them for the incredible work they are doing.
###
A section of the Sherwin Creek Road is closed due to flooding as is the northwest loop of Sherwin Creek Campground.
Our engineering crews will be working there today to tackle clogged culverts and erosion along the road. Please avoid the area and all flowing water.