While the debate of marijuana legalization rages in California, with a ballot initiative set for November, illegal pot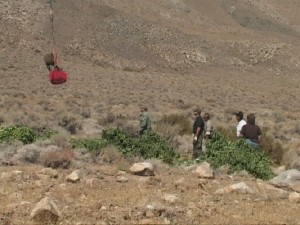 cultivation grows in the mountains of the West. Law Enforcement and agencies issued a warning to watch out for pot growers on public lands.
Inyo and Mono law enforcement have ferreted out cultivations in past years. The Inyo Sheriff's Department and the Forest Service have now issued a press release to raise awareness of what's out there. Officers say that marijuana growers will be active on the national forest and other public land here from now until usually the end of October.
Law Enforcement points to clues you may encounter and advises immediate departure from the site for your safety. In fact, officers say, "Walk, crawl or run out the way you came in and make as little noise as possible. The growers may be present and may or may not know that you have found their operation." Then, they ask that you report your experience in as much detail as possible to law enforcement or a government agency.
Here are some clues to watch for – the smell of marijuana which officers say is like a skunk, hoses or drip lines located in unexpected places, a well used trail where there shouldn't be one, voices coming from unusual places, or people standing along roads without vehicles. Officers say pot plantations are usually found in rough, steep terrain, typically between 500 and 5500 feet of elevation. Watch out for camps with cooking and sleeping areas. Look for fertilizer, weapons, garbage, and dead animals. Beware of individuals armed with rifles out of hunting season.
Officers say that in the last seven years, over seven million pot plants have been seized off California public lands.