Thick sheets of ice on Olmsted Point in Yosemite means Tioga Pass will remain closed for the Memorial Day holiday. The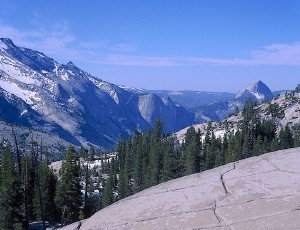 Eastern Sierra always pushes to have the pass open since it is the passageway for tourists to the Eastside from the Westside.
Yosemite Ranger Scott Gediman said that crews did actually plow the whole way through Tioga Road, but avalanche concerns at Olmsted Point have blocked the official opening. Gediman said crews have used charcoal to melt the ice and dynamite to blast it away, but he said all of the ice must slide off before conditions are safe.
The Park Service will open Glacier Point Road by Friday. That's the road into the Park off Highway 41. It goes into the center of Yosemite from the south entrance to spectacular views of Yosemite Valley.
Asked when the Park believes Tioga will fully open. Gediman said with the unpredictability of weather this spring, no one really knows. He said they do expect more snow this week. As soon as conditions warm up, an open road becomes more likely. Meanwhile, Gediman said the Park Service will continue to work aggressively to make conditions ready. He said they are disappointed in this news. So are Inyo-Mono businesses which gain more holiday trade when the Pass Road opens.