For two months, the Sheep Fire has burned on the west side of the Sierra in Kings Canyon National Park and Sequoia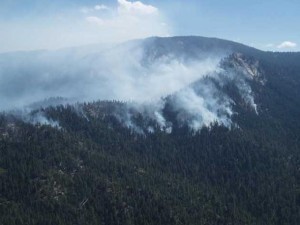 National Forest. That fire remains the source of almost daily smoke pollution on the east side.
Forest officials said infrared mapping shows that the Sheep fire has continued to grow and stood, at last look, at about 5300 acres. The fire started in mid-July. Fire growth heads mostly west. Firefighters have worked to hold the fire south of the Kings River.
Even though smoke continues to slide over the Sierra, particularly in the afternoon, forest officials believe cooler temperatures and higher relative humidities in the fire area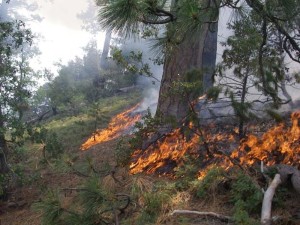 have slowed fire activity. They do point out that warmer temperatures are expected over the next three days so fire spread may increase.
Fire officials do admit that they know the smoke in the Eastern Sierra remains unpleasant, and as documented by our weather forecaster Dennis Mattinson, unhealthy, but they also support managing lightning fires to get rid of massive amounts of fuels that will cause worse fires later.
Earlier, officials said that fire had not hit this area on the west side for one hundred years.