Three years ago when she took the job as Bishop Police Chief, Kathleen Sheehan made it clear she would likely move on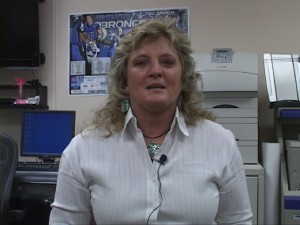 some day. That day has come.
Sheehan confirmed, along with a press release from Port Hueneme, that she will accept the job as Chief of Police in that Ventura area town. A press release from Port Hueneme officials says that "For the first time in its history, the City of Port Hueneme will appoint a woman as their police chief." The release goes on to say that Sheehan will be sworn in as that city's eleventh chief at a city council meeting September 20th.
Port Hueneme officials said that the 51-year-old Sheehan was "clearly the City's top pick through a process that sifted 56 candidates through several interviews, an interview with the city council, an extensive background investigation, and a trip to Bishop by City Manager Dave Norman to interview city officials and townspeople."
Port Hueneme officials described Sheehan as having a "rare combination of big city sophistication and small town sensitivity." Chief Sheehan's resume includes 25 years with the Los Angeles Police Department, including a whistle blower incident in which she reported on then Chief Willie Williams' gift acceptance abuses. Port Hueneme likes that about Sheehan.
After two years overseas with the US Department of Justice, Sheehan took the chief job in Bishop. The press release mentions that Sheehan had lived in Oxnard and Camarillo previously and looks forward to a move closer to friends.
Bishop City Administrator Rick Pucci said that Sheehan had been open with him and the city council about the possibility of her move. Pucci said the Council will review the chief situation when they meet next Monday. He said the move will be a smooth one with Lieutenant Chris Carter as the officer in charge.