A caring group of wonderful souls have made life better for those who have suffered a loss or illness.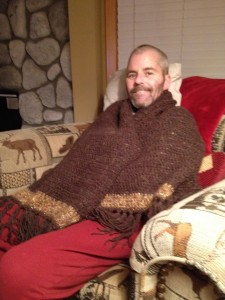 My brother Spike was deeply moved and greatly appreciates the comfort shawl given to him by the Mammoth Lakes Comfort Shawl Project.
I'm sure the shawl has helped in his recovery, and I thought about it Sunday as Spike and I were taking a walk with our dogs.
Many grateful thanks to the Mammoth Lakes Shawl Project.
– Bob Todd
A press release follows.
Mammoth Lakes Comfort Shawl Project
Shawls have been made and given for centuries. 
They are universal and embracing. 
They enfold, comfort, wrap, give solace, warmth, hug, shelter and beautify.
Mammoth Lakes is a community that has a long history of helping and supporting each other.  The Mammoth Lakes Comfort Shawl Project has been created to continue this tradition.  It is a non-denominational offshoot of the Prayer Shawl Ministry (www.shawlministry.com) which was created in 1998 by two female theology students in Connecticut, Janet Bristow and Victoria Galo.  Compassion and the love of knitting and crocheting have been combined into a practice which reaches out to those in need of comfort and solace, as well as in celebration and joy.
Shawls can be used for: undergoing medical procedures; as a comfort after a loss or in times of stress; during bereavement; prayer or meditation; commitment or marriage ceremonies; birthing, nursing a baby; bridal shower or wedding gift; rites of passage; during an illness and recovery; ministering to others; graduation, birthday, anniversary, ordination, holiday gifts; or just socializing…there are endless possibilities!
Whether they are called Prayer Shawls, Comfort Shawls, Peace Shawls, etc., they are gifts, freely given with no strings attached.  Putting a price on a shawl defeats its purpose.  Shawls aren't sold but donations of yarn or money to purchase additional supplies are gratefully accepted. 
In 2011, we gave out 62 shawls and so far this January 6 more.  They have been given to friends and family, local and out of town people, the Cancer Support Group, the Grief Support Group, and Wild Iris. 
The Mammoth Lakes Comfort Shawl Project meets the 2nd Tuesday of the month from 11 AM to 1 PM in the Ellie Randol Room at the Mammoth Lakes Library.  If you would like to participate, request a shawl for someone, or just want more information, please join us.  You can also contact us at [email protected].
"People will forget what you said,
people will forget what you did,
but people will never forget
 how you made them feel."
– Maya Angelou