Sharon Ann Rubio, age 65, resident of Bishop, California for 42 years, born in Des Moines , Iowa on September 16, 1949  Passed away on May 3, 2015 at 1:05PM at home with family.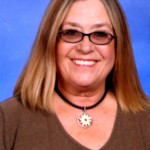 Sharon grew up in southern California graduated from Kennedy High School in 1967. Met Robert Rubio in 1969 and married in 1970. They moved to Bishop in 1973. Started driving school bus for Inyo County in 1975 and drove for over 30 years with Bishop and Round Valley schools. She loved being a bus driver and even learned sign language to be able to communicate with all of the children.
Sharon loved camping and spending time with her family, especially her grandchildren.
Survivors include Robert Rubio, husband of 45 years. Her son, Jeremy Rubio and his wife  Annie  Rubio and her two grandchildren Travis and Cecelia Rubio. She is also survived by her daughter Sara West and her husband Scott West and her grandson Mason West plus extended family.
Memorial service will be held Saturday June 27, 2015 at Brune mortuary chapel at 11:00 AM officiating Chris Costello.