Mammoth Lakes Police Sergeant Eric Hugelman won an appeal of his termination at the end of last year, now Police Chief Dan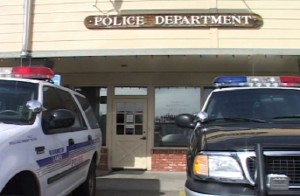 Watson has announced Hugelman's return to the MLPD.
A two-sentence news release from the Mammoth Lakes Police Department says this: "Mammoth Lakes Police Chief Dan Watson has announced the return of Sergeant Eric Hugelman to the Mammoth Lakes Police Department. Sergeant Hugelman is currently assigned as a Watch Commander on the Day Shift."
Hugelman's attorney, Rob Sergi, had stated that his client was fired as a result of alleged involvement in a brawl at Rusty's Saloon in Bishop. Charges of disturbing the peace filed against Hugelman were ultimately dismissed.
Other reports seemed to contribute to problems for Hugelman. A report that he had assaulted fellow officers at an event in Las Vegas went to an internal investigation. Again, attorney Sergi called this incident a "non-event."
In late February Sergi had said there was "some truth" to the rumor that Hugelman would go back to work at MLPD. Mayor Skip Harvey had also said that Hugelman's return was a "possibility."