A jokster added to the Caltrans sign, Bump, to say "Got Bump?"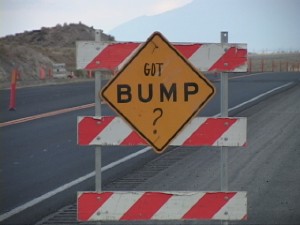 That could amount to the slogan for summer driving. It is, after all, the best time for road work. Caltrans District 9 launched at least seven projects in Inyo-Mono so far.
The Black Rock project, designed to expand the dangerous two-lane section between Independence and Big Pine into four lanes. Notorious for head-on collisions and fatalities, that section of Highway 395 earned the name Death Alley from locals.
The Caltrans contractor opened the two new northbound lanes to traffic this week. Caltrans spokesmen had earlier said the contractor would finish the project in August.
Work continues to create four lanes south of Independence with the replacement of pavement and addition of sidewalks continuing in Independence. All of these projects add up to some $40 million.
North of Bishop and into Mono County, crews remain at work on a $7.5 million project north of Bishop and into Mono County near Rock Creek Road.
Crews will widen shoulders, straighten curves, improve drainage and install guardrails. This work will go on into October with switches from south to northbound lanes as work progresses.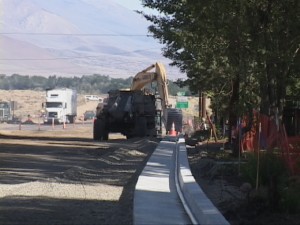 Pavement rehabilitation goes on in the Wye Road and Laws areas of Bishop, Big Pine, and on W. Line St. near Red Hill Road. The work continues on 395 north of Bishop and up to Pleasant Valley Dam with shoulder widening, pavement improvements, sidewalks and retaining walls. It's an $8 million project.
Work continues in the Little Lake area and in Death Valley. All current projects add up to around $70 or $80 million.