Lance Herrera-Dempsey passed away unexpectedly on December 23, 2017.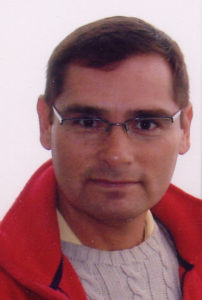 He was born and raised in Bishop, CA. Graduated high school class of 1984 at Bishop Union High.  After high school, Lance attended college in San Diego.
 He enlisted in the Army in 1986, serving his first tour in Korea.  From there, he was stationed in Worms, Germany.  While serving active duty, Lance received his Associates of Arts degree through the University of Maryland. He served six years in the army and was discharged in 1992 with a rank of Specialist E4.
While stationed in Germany, Lance met the love of his life and Husband, Steve Dempsey.  Together the two shared an amazing 27 years and were married in May of 2015.
He has resided in various places of the U.S. such as Las Vegas, NV, Georgia, and eventually made his way over to Columbus, Ohio where he has lived the last 17 years.
Employed with the United States Postal Service, Lance started out as a mail carrier making his way up to a supervisor. He was very dedicated, respected and loved.
With his witty personality, he had a way to capture the love and respect of all who knew him. He was employed with the USPS 12 years.
Besides work, Lance loved to travel and explore new places alongside his husband.  He was very adventurous, outgoing and free spirited.
He loved to live life to the fullest and his family was everything to him. He loved visiting family every chance he got. Lance had a very genuine heart and would do anything for anybody.
Lance leaves behind his dog Charlie, cats L.T., Petey, and Sissy. Lance is survived by his husband, Steve Dempsey of Columbus, OH. Sisters Laura Torres, Lisa Gonzales, Lynn Herrera and Camilla Herrera all of Bishop, CA.  Sister Carla Herrera of Reno NV, Brother Louie Torres of Bishop CA, numerous nieces, nephews, great nephews and nieces, cousins.
He is preceded into death by his parents, Carlos and Helen Herrera, brother Raymond Torres and great nephew Jorge Esparza.
 Funeral services will be held at Brune Mortuary in Bishop, CA. Friends may call on January 4, 2018.  Services will be on January 5 with burial at Pioneer Cemetery in Bishop, CA.
A celebration of life will be held at Lance's residence in Ohio with a date to be announced by husband Steve in January. In lieu of flowers, please contribute to one of the following organizations in his memory: A.S.P.C.A. or the L.G.B.T. rights organizations. 
A viewing will be held on January 4, 2018 from 5-7 PM at Brune Mortuary in Bishop, CA, followed by a Funeral service at Brune Mortuary at 11:00 AM, January 5, 2017 and interment at West Line Street Cemetery,  Bishop, CA.  A celebration of life will be held at Lance's residence in Ohio with a date to be announced by husband Steve in January.