Graveside services will be held August 1 at 10:00 am at the East Line Street Cemetery in Bishop for 81 year Bishop resident, James Claude Doherty.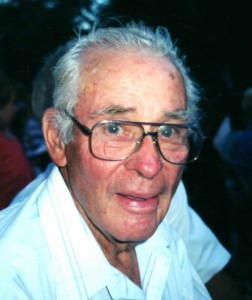 Born in Imperial Valley, Calif. On February 13, 1921 to Joseph L. Doherty and Louella Boshers Doherty.  Jim passed away July 26, 2015 in Bishop, Calif.
Jim came to Bishop in 1934 with his dad, Joe Doherty.  Joe started Joe's Garage on Willow St. in the same year.  Jim attended Bishop schools, graduated in 1939.  He spent time in the U.S. Army from 1942-1944, in England, returned to Bishop in 1944.  He married Helen A. Brockman on July 11, 1945 in Pasadena, Calif. They were married 59 years.  Helen passed away in 2004.  They made their home in Bishop.  Jim owned and worked at Joe's Garage until his retirement in 1985.
Jim loved to fish on his boat at Crowley Lake, he and Helen took several cruises, enjoyed traveling in their 5th wheel trailer visiting new places,  family and friends.  His passion for his wood pile was a highlight in his life.
He leaves 4 children, Karen Eckert, Sacramento, grandson David Eckert, granddaughter Kim Kaluba. Janette Boyd, (Doug), Stockton, grandaughters Teri Boyd, Dena Brayshaw, grandson Ryan Boyd. Tom Doherty, (Judy), Gardnerville, Nev., granddaughters Cori Ayandele, Linzy Fitzsimons, grandson Todd Doherty. Donna Brazier, Bishop, grandaughters Cara Brazier, Jenna Brazier, 13 great grandchildren, 1 great great grandchild.
His beloved dog Sadie, his best friend and companion, passed away February 2015.
Jim loved life, his family, his friends, he loved Bishop.  Bishop was his life.  He will be truly missed.
Donations in Jim's memory may be made to the charity of one's choice or to www.ICAREforPets.org