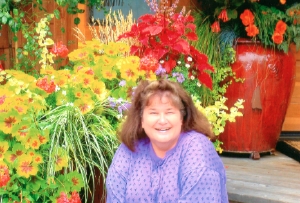 Patricia (Patty)McCartney Peace 1960-2014 Patty was born October 17, 1960 in Las Vegas Nevada and passed away May 30, 2014 at her home in Bishop at the age of 53. She moved to Bishop as a young child, where she later raised her son, David and remained in Bishop ever since. Patty devoted many of her younger years working as a caregiver. Patty was a loving, caring, and sensitive woman and had an incredible way of putting smiles on people's faces.
Patty had an unbelievable love for all animals. She also enjoyed collecting angels. She loved and looked forward to every Monday and Tuesday when she spent time with her only granddaughter, Savannah. They enjoyed beading, watching Disney Channel, taking walks on the canal, and many other activities together.
Patty always had a beautiful smile on her face and will be greatly missed and loved by all who knew her. We have so much peace knowing she is in heaven with her Lord and Savior in a healthy body. Survived by her son, David Miliauskas, granddaughter, Savannah Miliauskas, mother, Dorothy David, siblings: Sandi Reikow (Bruce); Tim McCartney; Barry Carroll (Elaine); Bryan McCartney and many nieces, nephews, family and friends. Preceded in death by father, Otto David, brother, Michael David, father, Robert McCartney, sister, Robyn Shumpert, twin brother, Paul McCartney, brother Michael (Mickey) McCartney, and son Milo McCartney.
Funeral services will be held Saturday June 7 at 10:00 am at Calvary Baptist Church, Pastor Rick Klug will be officiating.