An example of the dysfunctional bear management situation in the Lakes Basin – That's what Mammoth's Wildlife Specialist Steve Searles said about a bear break-in at a cabin near Lake Mary where he is not allowed to employ his bear control
techniques.
The cabin owner, Lou Capaso of southern California, had nailed boards up on all windows and tried to secure his cabin that bears have invaded six times. His family has rented from the Forest Service since the 1930s. Searles pointed out that this was the same cabin where Blondie the bear had broken in and was shot earlier this summer.
Searles said that no bears have broken into homes in the Town of Mammoth, only in the Lakes Basin where he is not allowed to perform his bear management techniques. Bears have broken into cabins 33 times in the Lakes Basin and zero times in Mammoth. Forest Service officials claim Searles' tools are firearms which would make it illegal for him to use on forest land.
That's a topic Police Chief Dan Watson continues to pursue. In fact, the Forest Service has now considered a possibility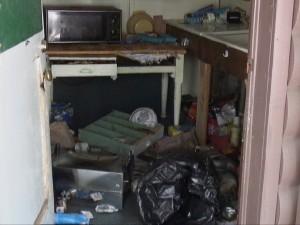 presented by Watson. In the meantime, it's hands off for Searles on Forest land.
Friday, a bear chewed through the door of the cabin and trashed the place in search of food. Searles said, "If you don't reprimand the bears and don't teach them those boundaries, then this kind of thing can happen. I hope this bear does not need to be destroyed." (Bill LeFever talked to Searles at the cabin site:)
Searles said without adverse conditioning and without his ability to monitor and work on the situation, more bears may have to be destroyed. In Friday's break-in, no one was in the cabin. Searles said the bear went to "huge efforts to get in." Searles called the situation the "epitome of the lack of cooperation among the different departments that have jurisdiction in this area. Bears aren't aware of jurisdictional lines."
In the Lakes Basin where bears go unchecked, more than 30 break-ins, while in the Town of Mammoth there have been zero break-ins and home invasions by bears. Searles called it a lack of management and stewardship.