The season's first cold-wet snap hit the Eastern Sierra with the first snow on Mammoth Mountain and othr upper elevations.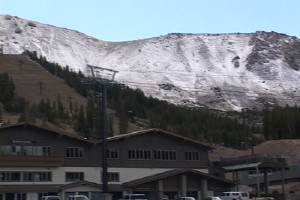 Weather forecasters called for more scattered snow through the week-end and possibly beyond. Mammoth Mountain Ski Area crews reported more than an inch on the top of the mountain, which was enough to prompt optimism about the ski season, which lagged last year.
MMSA points to some new improvements that skiers and boarders can anticipate. Top on the list – the new high-speed, six-pack chairlift, dubbed Cloud Nine, which will move skiers and riders from the Eagle Lodge side of the mountian up to 10,371 feet near Dragon's Back.
This year, MMSA will open November 8th, weather permitting. Snow making will once more smooth the way to a new season, if temperatures are cold enough.
Locals have predicted a light to medium snow season. Weather forecasters, including KSRW's weather specialist, Dennis Mattinson, point to a forming La Nina effect in the Pacific which they conclude will create a "normal" winter. As usual, we'll wait to see.