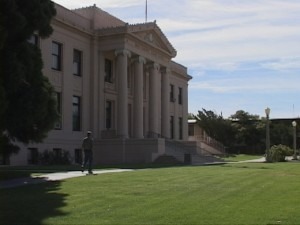 An Inyo County jury had found Josephine Lijek of the Bishop area guilty of several misdemeanors. She was recently sentenced in Inyo Court.
According to court spokespersons, Lijek was sentenced on assault with a deadly weapon, brandishing a deadly weapon in a rude, angry and threatening manner and two counts of disturbing the peace.
The Court sentenced Lijek to 36 months probation with several special conditions. She was ordered to pay assessments and fees totaling at least $550. The order says Lijek can not possess any dangerous weapons and will be subject to search. The special conditions say Lijek can not possess any firearms for the next ten years and must enroll in and successfully complete an Anger Management Counseling Program.
The Court also ordered Lijek to stay away from four specific individuals. A sentence of 180 days in the Inyo County Jail was suspended, pending successful completion of probation.