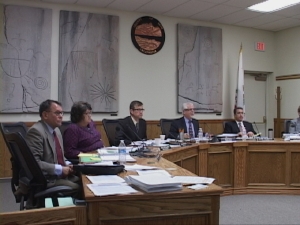 Tuesday at 11am, the Health and Human Services Department planned to go through a workshop on options to possibly change the Senior lunch programs. Some seniors were disturbed that the item was right before the lunch program starts at noon and would mean employees of the program and some seniors could not attend the Board meeting.
Supervisor Matt Kingsley, in whose district some of the impacted seniors live, said he had a couple of emails complaining about the time of the item. He said he thought it was too bad that the timing came out that way but that he was offended at the implication that it was intentional on the part of the Board. Said Kingsley, "There was no intention to keep them out."
Supervisor Kingsley said it could be postponed or another discussion could be scheduled at a better time. He said Tuesday's item was not a "decision point." Since some seniors had already planned to come at 11am, Kingsley said it might be best to go ahead and then have one more workshop later.
The Board agenda packet has no information in it about what options Health and Human Services wants to run by the Board. So, that will be a surprise, at least, to the public. Supervisor Kingsley said he believes the options have come from the Senior Advisory Council.
Supervisor Chairman Rick Pucci said he did not believe the Board would take action on the Senior Lunch Program Tuesday. He said at the most, there would be discussion and that the Board would "probably have another hearing at a different time" to accommodate the interested public.