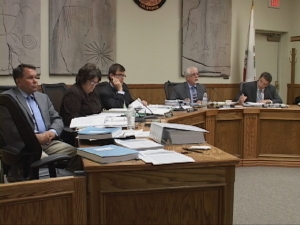 With a crowded Board room and many senior citizens who spoke up to keep their lunch program, the Inyo Supervisors listened and made no decisions. Comments by the Board indicated they will look for ways to cut or raise revenue but will try to maintain as much service as possible.
Joy Wilson of Lone Pine started out the discussion by calling funding of the meals program "a matter of conscience and priority." She told the Board they were trying to resolve their budget deficit from wrong priorities. Rachel Lober of Bishop said many wonder if the Supervisors would consider trying to save money in places besides the dumps and senior programs. She said a hot, prepared meal every day is very important.
Kathy Barnes of Independence said for some the senior lunch is "the only balanced meal of the day." The delivery of meals, she said, provides a warm smile and a safety check. Barnes pointed to the factor many have complained about when she said, "Ask yourselves why you gave employees raises with no way to fund those raises without cutting essential services."
The Administrator and the Board had supported what they called equity adjustments for a number of employees who got between 5% and 30% in raises equalling $650,000. On top of that, all employees received cost of living pay hikes totaling nearly $2 million. With no money to pay for much of this, officials began what they call Service Redesign. The Senior Program has fallen into that.
Denise Munoz, full-time cook for the senior meals in Lone Pine asked the Board not to be hasty about their decisions to cut the program that gives seniors "the most balanced meal of the day and personal contact." Her assistant Mo Monroe said if the County can not raise the revenue to keep the program whole, she hoped cuts would be made in "little, teeny, tiny baby steps." She advised continuing to eat the deficit until the County sees how it goes. Several others spoke of the importance of the program and the need to subsidize it.
Health and Human Services Director Jean Turner had said the County's Senior Services program, called IC Gold, amounts to around $600,000. Those dollars pay for meals, delivery and in-home services. Turner said in addition to that money, state and federal governments provide funds, but those dollars have dropped by nearly half a million in the past six years. Turner added a piece of good news – that her department will hire a registered nurse to do assessments for those who need in-home services.
She laid out options for what to do with the meals programs. The extreme choices were to keep everything as it is versus eliminating the programs all together. She said numbers of meals could be reduced and so could numbers of days of delivery. Use of the jail kitchen instead of the senior kitchens is an option, but the jail would have to hire an additional cook. Turner said use of a food vendor would likely not save any money. She said labor is the biggest cost and reduction of full-time cooks to part-time could lead to a substantial savings. That would also reduce numbers of meals provided.
More than one person mentioned that Inyo County supports seniors, per capita, better than any other county in the state, but that still left the question – would the County continue to do so? Mark Tillemans said he did not think senior services were in jeopardy. Matt Kingsley said the Board is in a touch spot "to provide services and balance the budget." Linda Arcularius said, "Hard times make us look at how to do better. We only have so much money." Jeff Griffiths said from the public turn-out, it's evident the programs are "incredibly important." He advised being creative to keep the programs going. Rick Pucci favored changes in the baby steps brought up earlier.
Director Turner heard from the Board that they want the same service for less money, they want more cost information and ideas about charging some for the meals. Inexplicably, County Administrator Kevin Carunchio pointed out that the $600,000 senior budget is the cost of four Sheriff's deputies. He said the County is not picking on the dumps or senior citizens.
Turner will come back to the Board with more analysis and information for a later workshop.