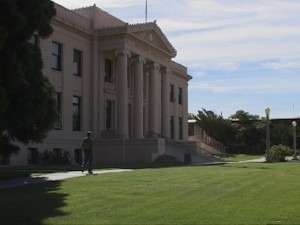 Some services for senior citizens in the area remain in a kind of transition. The Ombudsman Program looks like it will switch to an in-house Inyo County program, and the Senior Legal Program may go to an out of town lawyer.
The Ombudsman Advocacy Services have operated a volunteer program with a director to officially advocate and help those in long-term care facilities in Inyo and Mono. Recently, the Inyo County contract for these services went out for requests for qualifications and an award. California Indian Legal Services in Bishop won the contract over the long-time Ombudsman Services group. That group appealed to the State of California Health Department which then ordered Inyo County to go back out to bid with more refined requirements.
Inyo Health and Human Services Director Jean Turner recommended to the Board of Supervisors that she could create an in-house ombudsman program. The Supervisors asked her to come back with a plan. Turner said that the Ombudsman Program requires volunteers. She said that there will be training for volunteers who can then serve more than the ombudsman services. Turner said for instance, the volunteers could serve as back-up for delivery of meals and as home visitors to keep track of the elderly as they may have more needs over time. Turner also said that possibly some contractors currently involved may play a part.
Meanwhile, the current Ombudsman Program will continue to function through March. Another senior citizen service, the Senior Legal Program, still goes through changes. California Indian Legal Service in conjunction with Inyo County has long provided senior citizen assistance on many issues through paralegal, Jennifer Duncan. When Duncan, who also sits on the senior advisory council to the Board of Supervisors, spoke in a public comment session about the growing funding needs for the Senior Legal Program, Inyo County Counsel Randy Keller called it a conflict of interest which disqualified CILS from getting the funding for the program. Keller admitted that it seemed like a technicality but said the state conflict of interest law is strict and doesn't allow an advisory council member to also advocate for funding his or her own program. Keller said he knows Ms. Duncan did not intend to create a conflict. CILS appealed this decision, but the Board of Supervisors sided with their County Counsel. So, the long-time service as it was for many years has ended. An attorney or legal person from out of the area has submitted a bid and was the only bidder.