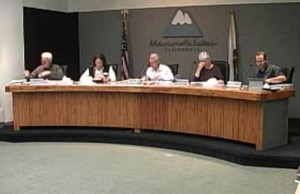 To consult or not to consult? That's the question the Mammoth Town Council will ponder when they meet Wednesday. At their last meeting, Council members thought out loud about the pros and cons of a consultant to help them pick a permanent Town Manager.
Councilmen Matthew Lehman and Michael Raimondo both said they would prefer not to spend an estimated $26,000 on consultants to help them hire a Town Manager. Council member Jo Bacon said the Council does need to hire someone to help them. Mayor Rick Wood looked to the past and said he wasn't sure which way to go.
Town Attorney Andrew Morris, who is handling the selection process for the Council, said he thought it would be best for the Town Council to interview consultants and consider selection of one. Interim Town Manager Dan Holler is not participating in all of this because he plans to apply for the permanent position.
Scheduled to start at 4pm, the Council will interview four consultants – Alliance Resource Consulting, Avery & Associates, Colin Baenziger & Associates, and Ralph Anderson & Associates.
Then later in the regular meeting that starts at 6pm, the Council will consider retention of a consultant to help them recruit a Town Manager. They will also look at the Interim Town Manager's recommendations for restructuring town management positions and the organizational structure as a whole.
Interim Manager Dan Holler recommends that the Town retain a single-person Human Resources office but add a Human Resources Manager position for the future. Holler recommends a reduction in the Town Manager's salary with savings to go to administrative support or office assistants in the Town Clerk's Office. He calls for a salary cap of $173,800 with a 2014-15 budget estimate of a $158,000 salary plus benefits for a Town Manager.
Holler recommends the position of Finance Director and not Budget Management Analyst that is currently in the budget. He points to major changes in the finance arena with more to come. Holler says a working Department Head will "provide needed staff assistance, focus, and reduced administrative responsibilities allowing staff to be more efficient in their primary duties and responsibilities."
Holler also recommends not filling the position of Community and Economic Development Director. He said the Department needs technical staff support more than a Director. Holler says to meet the Council's goals related to economic development, he recommends use of consulting services.
Holler does recommend filling a Public Works Director position. All told, Holler says the changes would save $421,600 which would be re-allocated for other necessary positions. This re-organization will be up to the Town Council.