– Information from Inyo County Sheriff's Office
On August 5th at about 5:20pm, the Inyo County Sheriff's Office was notified through CalOES of a SPOT device activation near Jigsaw Pass. The activation was followed by a message asking for a helicopter for an immediate evacuation due to an injury. A short time later another message was sent saying, "fatality." Two Inyo County SAR members responded to the coordinates of the SPOT activation.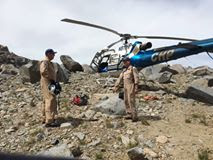 On August 6th at about 7:00am, CHP H-80 arrived and with the assistance of the Inyo County SAR team, H-80 was able to recover the body of Stephanie Subak (58 years old from Seattle, WA) and transport her to the Sheriff's Posse Hut near the Bishop airport, where she was then driven to Brune Mortuary.
Interviews conducted with her hiking friends who were with her at the time of the accident indicated that Subak was descending down Jigsaw Pass when a rock that she grabbed onto gave way, causing her to tumble about 40 feet down a chute.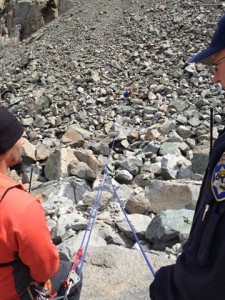 Once Subak's partners got to her, she was unconscious but breathing; she passed away about an hour later. According to the coroner Subak sustained multiple traumatic injuries that caused her death.
The Inyo County Sheriff's Office extends our sincere condolences to Subak's family and friends during this very difficult time. We also would like to thank the Inyo County SAR team and H-80 for their response efforts.