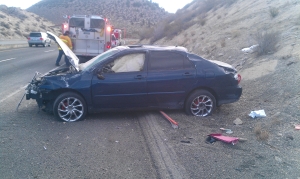 A Bishop woman sustained minor injuries in a single-car collision on southbound Highway 395, south of the Crowley overpass on Monday morning. The California Highway Patrol responded to the accident.
Officers said that it was Monday around 8:40 am when Karina Sandoval, 19, of Bishop, was driving a blue, 2005 Toyota Corolla at approximately 65 miles per hour. She lost control of her vehicle due to what officers said was an unsafe turning movement. The car went across both soundbound lanes and hit the raised curb on the right shoulder.
Officers said the force of the impact caused the vehicle to overturn and come to a rest on the right shoulder. Emergency personnel from CHP, Long Valley Fire, Mono County Sheriff's and Mono Paramedics responded to the scene. Ms. Sandoval was transported to Mammoth Hospital with minor injuries. The CHP said alcohol and drugs were not a factor.
Ms. Sandoval was wearing a seat belt.