The Lower Owens River does not enjoy year-round, unrestrained water flow. The Department of Water and Power and Inyo County agreed on flows, including what they call seasonal habitat flows which rush higher than the normal 40 cubic feet per second flow. The seasonal flow will start to course down the Lower Owens River Wednesday.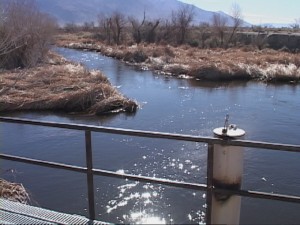 According to the Inyo County Water Department, the flow will increase over a seven-day period, peaking on Wednesday, June 22nd at 200 cubic feet per second, then back down to 40 cfs by Wednesday, June 30th. This higher flow became part of the agreement between Inyo and LADWP to "mimic the pulse of water that would result from spring runoff in an unrestrained river."
Water officials said the high flow will transport and redistribute muck from the river bottom, wet the river banks when willow and cottonwood seed are present, recharge groundwater in the riparian area, control tules and cattails and enhance the fishery.
The high flow will cause muddy waters and a small change in river elevation and width. DWP has allowed four seasonal flows like this, and it takes about nine days for the flow to travel the length of the 62-mile river.
Inyo and LADWP still quibble over details of the Lower Owens River and neither side has come up with a remedy for the tules which choke off many parts of the Lower Owens.