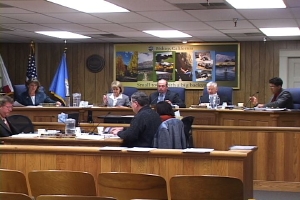 The Bishop City Council will not pursue a law enforcement contract with the Inyo County Sheriff. That position came out in open session at the Council's Budget Workshop last week, according to City Administrator Keith Caldwell.
The CAO said that the Bishop Police Officers Association bargaining unit wants to open negotiations early and look for cost savings before any more collaboration with the Sheriff. Caldwell said the City Council is open to that and gave directions to him to proceed in negotiations with the officers.
Caldwell said this effectively suspends the contracting effort. He said if there is enough cost savings, a contract will not be a consideration in the future. The Council had much earlier asked Sheriff Bill Lutze to look into the details of providing law enforcement for the City of Bishop.
Caldwell said the Sheriff and his team performed an initial study but did not go far enough to determine actual savings. The City Administrator said he wanted to repeat "how much we appreciate Sheriff Lutze and his team and the County being open to us." Caldwell said this came about as the City Council looked for creative solutions to budget shortfalls.
The Bishop Police Officers' contract lasts for another 14 months or so. They will go to negotiations early before their contract ends. Asked if concerns over loss of police department jobs was a factor, Caldwell said the potential law enforcement contract did cause a personnel concern.
In other City issues, the City Council decided to deny the sale of City property to the Administrative Office of the Courts for a new courthouse behind City Hall. Caldwell said this was based on "quite a bit of local opinion." He said the concerns were a loss of parking for downtown merchants, the current court, the school and the church in the vicinity. He said there were other concerns about the upcoming Warren St. project and negative effects on that.
The City Council did offer the Courts the old part of City Hall to tear down and construct a new building fronting Line St. The State has so far shown no interest in that option.
And, Caldwell said the Council discussed his replacement in closed session. He said 12 letters of interest have come in from local candidates. 7 were chosen for introductory interviews in mid-April. After that, the field will be further narrowed. Plus, the Council decided to advertise statewide and will receive additional applications until May 2nd. Caldwell had earlier announced he would return to his home state of Georgia for family concerns.