One searcher called it "the world's greatest disappearing act" – the vanishing of famous aviator Steve Fossett, a man with a reported 100 world records who is still missing from a personal flight out of the Flying M Ranch in Nevada.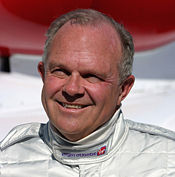 The Civil Air Patrol and others have scaled back their search for Fossett. Lieutenant-Colonel Ron Butts said the CAP has moved planes and pilots form Bishop Airport to Nevada. He said that the CAP and other searchers are waiting for new leads.
Civil Air Patrol officials praised the people of Bishop for their support and donations of food and sodas for the pilots and their search effort. They named Vons, McDonald's, Carl's Jr., Burger King, Kmart, owners of the Thunderbird and Roadway Inns.
The CAP has flown thousands of miles of desert and mountains between western Nevada and the Eastern Sierra. Early reports indicated that Fossett may have planned to fly from Nevada to Bridgeport. Scores of reports have gone to the CAP.
One witness in a cabin near Sonora Pass reported hearing a small plane fly over followed by the sound of an explosion. So far, a ground search turned up no evidence of plane wreckage.
As we reported, the intensive search has uncovered a half dozen old plane wreckages from the past 30 years. Scouring the complex and monochrome terrain from 1,000 feet is no easy task.
There are those who continue to pour over Google and Amazon satellite images in search of Fossett's plane. How long will the search continue? As one CAP official put it, as long as there is hope.