Trouble in the mountains this summer with lost, sick or injured hikers and some fatalities.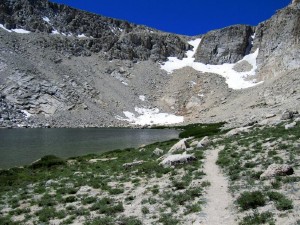 Last week alone, the Inyo County Search and Rescue team and other rescuers handled two deaths in the mountains, a broken leg, altitude sickness and missing hikers.
Inyo Public Information Officer Carma Roper reported that last Tuesday a 60-year-old man and his 19-year-old daughter from Monterey became separated from their hiking Group in the Little Lake Valley Basin area of Rock Creek. They didnt know the territory and were out of communication for two days. The pair finally made a phone call to Fresno County where officers responded. Inyo Search and Rescue had earlier launched a search.
Last Thursday, Inyo Search and Rescue volunteers responded to the Mt. Whitney Trail for a man with altitude sickness and in a nearby area for an 11-year-old girl having hallucinations. China Lake assisted Inyo on these incidents.
Last Friday, the Inyo Sheriffs Department arranged for body recovery of a 57-year-old Pennsylvania man who collapsed in the Cottonwood Lakes area. The cause of death is under investigation.
On Saturday, a hiker fell in the Cottonwood Lakes area on Old Army Pass and died. The U.S. Forest Service helicopter at Independence responded. They located the deceased person at the base of a steep ice field near the pass trail. They retrieved the body of a 66-year-old Long Beach woman the next day. The woman had become separated from her hiking party. She decided to descene the pass on her own. Officials said it appears Rea got off route and tried to cross a steep ice field by herself. She fell more than 100 feet.
While preparing to retrieve Rea's body, crews learned of a hiker with a broken leg near Temple Crag west of Big Pine. Inyo Search and Rescue headed to that area. The 36-year-old San Francisco man was flown out and transferred to Northern Inyo Hospital.
Yet another body recovery was made in the Old Army Pass area for a 66-year-old long Beach woman who got off route and tried to cross a steep ice field by herself. She fell more than 100 feet.
As PIO Roper said, These incidents and tragedies underscore the necessity for all of us to take precautions when recreating and play it safe.