School districts in the Eastern Sierra now brace for more bad financial news as state government officials struggle toward a budget.
In Mammoth Lakes, Superintendent Frank Romero said that in Sacramento the Budget Conference Committee now has a proposal for Basic Aid schools, like Mammoth, to take a fair share money hit similar to directly funded schools.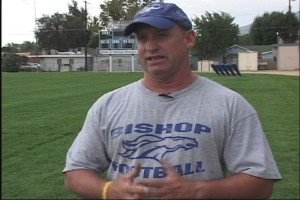 Romero said the minimal loss for Mammoth would add up to $300,000 and the amount could go as high as $800,000. The Superintendent planned to talk to the school board tonight in a special meeting that started at 5:30.
Mammoth does not have the option to lay off more teachers at this point, so officials will look at other expenditures.
Meanwhile, in Bishop, officials will wait for word from the state.
There is news on teachers. Bishop had issued more than a half dozen pink slips earlier this spring, but was able to get everyone back on board. Administrative Assistant Kim Nyberg said that with retirees and taking over the Keith Bright school, Bishop was able to reinstate all of the teachers.
Popular Coach Bill Egan, however, only received three periods a day, so his future remained uncertain. Nyberg said it has to do with the types of credentialing and seniority. Nyberg claims there is no subjective ability to employ teachers. "We're bound by the education code," she said.
Nyberg did say that Egan is Bishop's football coach and hopefully will be 100 percent full-time in the future. She added that a PHD science teacher also has a minimal schedule.