PLAY VIDEO OF FIRE AT BOTTOM OF WEBSITE, "SIERRA WAVE WEB VIDEOS"
UPDATE MONDAY 6:30PM
Investigators continue to gather information on the cause of the Center Fire that destroyed 19 Big Pine homes and caused evacuation of nearly half the town. The fire did start at the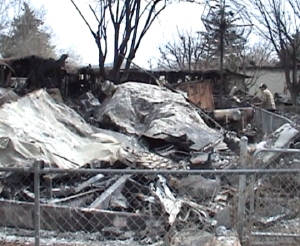 Bernasconi Center above town, and Inyo School Superintendent Terry McAteer candidly told what he knows.
McAteer said that an Alcoholics Anonymous group, the Carson Valley Men's Group came to stay at Bernasconi Center last week as they have for ten years. McAteer said unbeknownst to the County Schools Office, the AA group brought a metal fire pit with them and started a warming fire Friday morning. "There was no wind at that point," said McAteer, "and the group thought the fire was out."
By 3pm, the wind had come up and the resident manager, Mike Muldoon, saw smoke. McAteer said Muldoon grabbed a fire extinguisher and worked diligently to put it out. A member of the AA group who was still there helped him, but the wind was too strong and the fire raged out of control.
Of the fire pit, McAteer said, "We didn't see the pit at all. It was behind the building as a kind of warming fire." McAteer said he's been in touch with insurance agents. "We rent to a lot of groups," he explained. "They're insured. Insurance companies are now talking to each other."
Because of the direction and force of the wind, fire did not damage the Bernasconi Center. McAteer did say the fire rushed over to a water culvert and like a torch blew down into town. The destruction was swift, with some 19 homes destroyed. Fast action by firefighters saved the rest of the town.
Authorities have not issued an official cause of the Center Fire but Mr. McAteer's account of events answers many questions.
UPDATE 7:45 PM SUNDAY
Center Fire is 100 percent contained, Cal Fire reports.
UPDATE Sunday, 1:30 PM
Some hazards and hot spots still exist but firefighters are making progress in containing the Center Fire in Big Pine.
Cal Fire reports the 850-acre blaze was 75 percent contained by 9 a.m. Sunday. Full containment is still expected by 6 p.m. Sunday.
Firefighters andcrews continue to work to make the area safe again, but Cal Fire urges residents and travelers to be cautious in the fire area.
Cooperating agencies are Inyo County Sheriff, US Forest Service, CHP, CalEMA, CDCR, volunteer firefighters from thefrom Big Pine, Lone Pine, Bishop, Long Valley and Wheeler Crest fire departments, BLM, CalTrans and LADWP.
UPDATE Saturday, 6 PM
Over 400 personnel continued to work the CenterFire in Big Pine, a blaze that destroyed or damaged 19 residences.
The fire was 850acres and 60 percent contained as of 5:30 p.m. Saturday. Full containment is expected by Sunday at 6 p.m. All evacuation orders have been lifted.
The blaze, which started Friday afternoon, was first listed at 2,000 acres before being dropped to 1,200 last night.
"It's hard at night trying to make an estimate," Nancy Upham, fire information officer said. "We just have better mapping now.
"The fire was hot and the wind was pushing it."
Displaced Big Pine residents began returning to the disaster to their town early Saturday morning.
"It was a hard day for those folks, some finding nothing left," Upham said. "It's very sad."
From the Red Cross: All families andindividuals who suffered destruction or severe damage to their homes as a result of the Center Fire in Big Pine are encouraged to come to the Big Pine School to meet with a representative of the American Red Cross. The Red Cross will be available Sunday, starting at 10 a.m., at the school to provide disaster assistance to those persons unable to remain in their homes.
.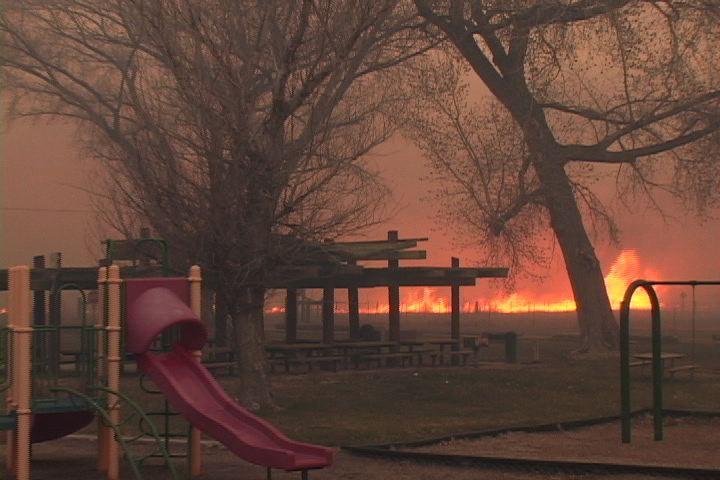 UPDATE 10:30 AM Saturday
The Center Fire in Big Pine has burned 1,200 acres and is 35 percent contained as of 10 a.m. Saturday, Cal Fire is reporting. Full containment is expected Sunday.
An estimated 19 residences have been damaged or destroyed.
The fire broke out at 3:19 p.m. Friday; the cause is still under investigation.
Cal Fire reports 430 personnel on scene with 21 fire crews,34 engines, one helicopter and two bulldozers. The firefighters are once again battling windy conditions, which fanned the flames Friday afternoon. Cal Fire said winds diminished last night and this morning, and the area has received light rain.
Mandatory evacuations are still in place for everything west of West Street in Big Pine, according to the Inyo County Sheriff's Office. All other mandatory evacuations have been lifted.
Evacuation centers areat Big Pine High School and Big Pine Indian Reservation gym. The public can call 760-937-1686 to locate displaced residents.
###
UPDATE 11:30 PM
Over 2,000 acres have burned near Big Pine and at leasta dozenhomes have been destroyed in a wildfire that started Friday afternoon. The blaze is being called the Center Fire.
CalFire is reporting 200 firefighters are on scene, with 19 engines, two dozers, four water tenders and one helicopter helping to battle the wind-whipped blaze.
The cause of the fire is not known at this time. There have been no reports of injuries.
The blaze caused the closure of US395, the highway to Mammoth Mountain, and stranded hundreds of skiers and snowboarders on weekend getaways.
US 395 re-opened before 11 p.m.,with CHP officers escorting vehicles both northbound and southbound.
UPDATE 11:10 PM
The CHP is now escorting traffic on US 395 after the highway was closed for several hours due to a large fire in Big Pine.
Sierra Wave has not received official word from the CHP or Caltrans, but drivers have said they are now being escorted north on 395 to Bishop.
###
UPDATE 9:45 PM
An undetermined number of structures have been destroyed by a massive fire around Big Pine in the Indian Camp, Rossi Lane and Glacier View Trailer Park areas, the Inyo County Sheriff's Department reported. There are no known injuries.
An additional evacuation center has been established at Lone Pine High School, along with Big Pine High and the Tri-County Fairgrounds in Bishop.
The public may call 760-937-1686 to locate displaced residents.
###
A massive, wind-whippedbrush fire near Big Pine has closed US 395 from Bishop to Independence and prompted mandatory emergency evacuations for all residents west of Main Street in Big Pine, Knight Manor, Rolling Green and Terrace areas of Big Pine.
Bishop Police Chief Chris Carter, on scene at the fire, said some two dozen structures have burned, including some homes in the Indian Camp area and surrounding areas.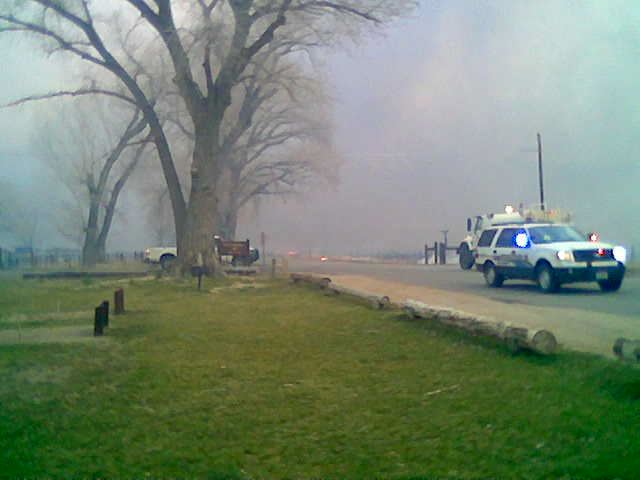 Sierra Wave has received uncomfirmed reports that Rossi property was heavily damaged and possibly destroyed.
A staging area for evacuees has been established at Big Pine High School and the Eastern Sierra Tri-County Fairgrounds.
The Inyo County Sheriff's Department announced Code Red Emergency Notification announcements have been made and will continue to be updated as new information is received by Sheriff's Dispatch.
The Interagency Dispatch reported the fire started near the Bernasconi Education Center area.
The fire was at least 800 acres at last report this evening. Firefighters from CalFire, the Forest Service, BLM, Bishop Fire and Big Pine were on scene, along with Bishop Police, CHP and Inyo sheriffs.
A resident in Big Pine – before being evacuated – said the smoke from the fire has a lot of red and brown colors and seems to be moving east.
Sierra Wave's Gigi Van der Riet said a Disaster Response Team is at the Big Pine High School to help people connect with families and friends.
The Inyo County Animal Shelter was also reportedly evacuated, with some animals headed for Bishop Veterinary Hospital.
UPDATE 6 PM SATURDAY