Patsy Louise Schley was born on September 29, 1932 to Lester and Bertha Banta and passed away peacefully at home on February 27, 2016.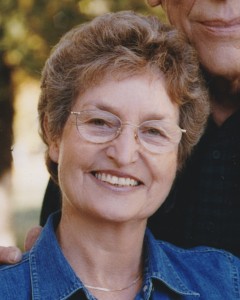 Patsy was a lifelong resident of the Bishop area. She was born in Colton, California and at an early age moved with her family to the Owens Valley.  She was raised on the family ranch on Rawson Creek where she acquired a love for the outdoors, learned uncompromising values and a strong work ethic.
She graduated from Bishop Union High School in 1951 and soon thereafter married the love of her life, John "Jack" Schley. Pat and Jack started a family, built a home, and became members of a community all of which they loved deeply. Patsy's giving nature provided a loving home, a warm smile, a listening ear and many family adventures.
Pat's home was always open to family and friends. She welcomed all with love and without judgement. Her home was a haven for her children's friends and she was a mother to more than her three children. She was known simply as Granny to her grandchildren and great grandchildren, as well as many of their friends.  Her backyard was a place of adventure and was the setting for many gatherings with family and friends. Over the past decade Granny was a loving and nurturing caregiver nearly full time for six of her great grandchildren. She gave them the very best start in life!
When she wasn't taking care of her extended family, Patsy had an active social life filled with many friends. She enjoyed hiking and made it a point to take a hike each weekend. Even into her eighties, many of her hiking friends and family had a hard time keeping pace!
Many may remember Patsy as the welcoming face at Dr. Denton's office. She was a dedicated and caring worker who always showed compassion to the patients.
Patsy was preceded in death by her husband of 55 years, Jack; her brother, Lester Banta; her sisters, Betty Goin and Ina Mason.
She is survived by her siblings Roger Banta, George Banta, Willie and Connie Banta and brother-in-law Votie Goin.  She is also survived by her children, Roger Schley, Gary and Rachelle Schley, and Lisa and Brian Gates; as well as her grandchildren Yarrow and Angela Schley and their son, Koa; Cedar Schley, Taylus and Katie Schley and their daughter, Tayla; Tarn Schley; Jess Schley; Nick Schley; Anna and Tom Scott and their children, Jade and Charlie; Tina and Reagan Slee and their children, Wyatt and Jessi; and Gary and Nikki Milici and their children, Lyndy and Jacey.
A memorial service will be held on Saturday, March 19 at 1:00 p.m. at the First United Methodist Church in Bishop. There will be a celebration of Patsy's life following the service at 2507 Sunrise Drive, Bishop.