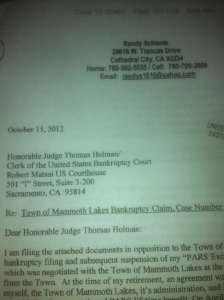 Add another angry police officer to the Town of Mammoth's growing list. In October, former Police Chief Randy Schienle filed documents to oppose Mammoth's bankruptcy filing. His complaint? A suspension of benefits that he said he negotiated with the Town when he retired. Schienele pointed to what he believes is a "consistent pattern of harassment on the Town's behalf directed at me by certain elected officials on the Mammoth Lakes Town Council."
In a letter field with the bankruptcy court, Schienele said he opposed Mammoth's bankruptcy filing, which presumably will soon go away. Meanwhile, former Chief Schienle points out that his PARS lifetime benefits were suspended under the pending bankruptcy.
Schienle writes that prior to suspension of his benefits there was no communication from the Town of Mammoth Lakes or its legal counsel indicating that his benefit would be suspended. Schienele's letter says that in speaking with Town Manager Dave Wilbrecht, he learned he was the only individual that was having the benefit suspended. Schienle said other retirees did not experience a benefit suspension.
Schienle wrote that Manager Wilbrecht told him that the former police chief's pay exceeded $200,000 at the time of his retirement and put him outside the federal guideline for the PARS benefit. Schienle said his pay never exceeded $200,000. He also said that a document the Town claimed spelled out the terms of his benefits did not include his signature.
Schienle asks for all back pay and interest due to him during the suspension of his benefits plus the continuation of the benefits. His letter says he believes the suspension of his benefit is "being done completely with 'malice and forethought' by members of the Town of Mammoth Lakes administration and its elected leadership."