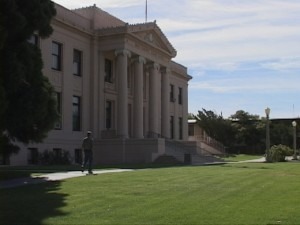 On Monday, a visiting judge denied a request from Sean Singleton to change custody and visitation orders regarding his and Angel Schat's 4-year-old son.
Authorities had issued an Amber Alert last week, alleging that Ms. Schat had abducted her own son. This was apparently based on a call from the father, Sean Singleton, who claimed Angel Schat was relocating. Her attorney, Rick Wood, has stated that there was no abduction and that Schat had followed the custody and visitation order in place regarding her son. He said she has sole physical custody of the boy and the right to unlimited travel.
Schat was arrested in Mineral County and transferred to Inyo. To the two charges of abduction and child endangerment, Schat entered not guilty pleas in an arraignment hearing. In a bail review hearing, the judge released Schat on her own recognizance.
In the custody matter in court on Monday, Ms. Schat was present along with many family members. Attorney Wood said the judge found insufficient evidence to issue an order changing custody and visitation and set the matter for further hearing next Thursday.
Wood said that he believes Schat was wrongfully charged. "We will get to the truth," he said. He pointed out that Mineral County is not filing charges. Wood said, "We offered that the child stay with his maternal grandmother, Shea Schat, subject to unlimited visitation by his mother." He must also stay within Inyo and Mono counties.
The father has flown back to Florida and will participate in next week's hearing over the phone.