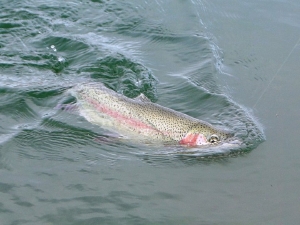 (Press Release)   SCE Trout Stocking for Drought-Impacted Eastern Sierra Businesses
The utility recently stocked 3,500 rainbow trout in Bishop Creek and Rush Creek.
Added: July 21, 2014 | By Paul Griffo
Lakes and streams in the drought-stricken Eastern Sierra may be lower than normal this year, but locals say the fishing is as good as ever. And, thanks to Southern California Edison (SCE), it just got better. 
Recently, SCE stocked 3,500 rainbow trout in Bishop Creek and Rush Creek fishing spots. Business owners in Inyo and Mono Counties, who depend on a steady stream of happy, out-of-town anglers, were downright ecstatic when they heard the news.
"That's great, because hiking and fishing are our bread and butter," said Jeff Simpson of theMono County Film and Tourism Commission, adding that the timing couldn't be any better. "July and August are our peak months for fishing."
Early in the morning on July 18, the first load of 1,000 trout was released at Silver Lake boat launch. 
"I watched them happily swim off and start feeding," said Dianne Knippel, SCE region manager. "What a great opportunity to be a part of this release, and to know that SCE is making a real difference in the communities we serve."
The truck carrying the fish then headed south to Bishop Creek to drop off a second load of 2,500 at Intake Two near Lake Sabrina later that day. 
"Lots of people here make a living with fishing, so any support of fishing is appreciated," saidBishop Area Chamber president Tawni Thompson. "Every business in the Eastern Sierra benefits in one way or another. Some more directly, like hotel owners, restaurants and tackle shops, and others more indirectly, like hair dressers, movie theaters and bowling alleys." 
She noted that the number of fish stocked by SCE is significant and "one of the biggest bonus loads of fish we'll get" to supplement the stocking done by others, including the state, the chamber and resort owners. 
As a federally licensed operator of hydroelectric generating facilities in Bishop Creek and Rush Creek, SCE's efforts to protect the environment include fish stocking. Dan Golden, manager of SCE's Bishop Creek hydroelectric facilities, says stocking in this region is especially important this year.  
"We recognize that a third consecutive year of drought is making a severe and immediate impact," he said. "We're certainly excited to do anything we can to stimulate tourism and have a positive effect on the local area." 
Because the drought has resulted in the lowest water levels for the region in decades, SCE forecasts that this year it will only generate between 30 and 35 percent of normal output from its hydropower systems. 
It has been so dry, in fact, that the local fish farm didn't even have enough water to run its hatchery this past winter, forcing SCE to buy the fish it is stocking from out of state. 
Also, levels at some of SCE's normal stocking locations are so low that the company had to work with the California Department of Fish and Wildlife to find areas that were more suitable for stocking. The Intake Two location was chosen as an alternate, since South Lake and Lake Sabrina have become difficult to access because of low reservoir levels.  
As the effects of California's drought become more apparent, local business owners, who are increasingly concerned that profits may be ebbing away with the sinking water levels, appreciate fish stocking all the more. 
Silver Lake Resort owner Andrew Jones, who has watched lake levels drop a few feet this year, is grateful for SCE's fish stocking.
"Whenever somebody catches a nice size trout, they tell their friends, and they'll be coming back," he said. "So we get even busier than we normally are the following week or so."
Gary Olson, who runs Bishop Creek Lodge, is sure the additional fish SCE brought will have a tremendous impact.
"Lakes being so low, people are concerned that there are no fish," he said. "So any stocking, especially this year, is a real big boon to us."