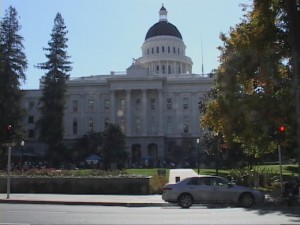 The controversial California Senate Bill 1148 grinds through the legislature this week. Former Mono County Senator Dave Cogdill first reported that the bill would cut funds for state hatcheries and the trout planting program. Since then, he has worked to defeat the bill and now to make changes in it through talks with SB 1148 sponsor, Cal Trout.
Cogdill said his meeting last week with Cal Trout, their lobbyists and private hatchery representatives "went well." Cogdill said, "We are still working through the fine points of our proposed amendments but reached considerable consensus on language that would strengthen AB 7, and improve wild and heritage trout programs."
Cogdill had worked for several years to get AB 7 approved. That bill assures funding for hatcheries and for wild trout programs. All sides admit that the bill has never fully been implemented.
Cogdill said the author of SB 1148 has now removed the portions of the bill relating to lawsuits that "caused the business community heartburn and as a result," he said, "got the bill out of the Assembly Appropriations committee." Cogdill said that movement of the bill will make it harder to defeat.
Cogdill and others have managed to get these changes:
The language calling for the creation of an Independent Science Panel to oversee all trout programs has been removed.
The language changing the priority of the Hatchery and Inland Fisheries Fund to Heritage and Wild Trout programs has been removed.
The requirement to genetically mark hatchery produced fish has been removed.
Cogdill has other proposed amendments that are under consideration. They are these items:
Maintain Fish and Game's current practice of periodically planting brood stock.
State that one of the intentions of the bill is the "Continued maintenance and enhancement of California's historic hatchery system".
Remove existing language that states "funding for Heritage and Wild Trout waters is a priority for the hatchery and fisheries fund.
Allow for the current $2,000,000 annual allotment from the fisheries fund for Heritage and Wild Trout be adjusted annually to coincide with license fee increases.
Cogdill is providing regular updates for the Eastern Sierra.