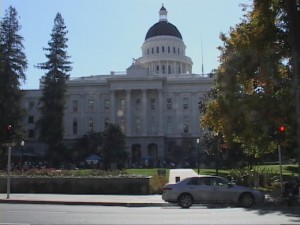 Trout hatcheries proponent, former Mono Senator Dave Cogdill, issued an email on Thursday to say he believes "barring a miracle, Senate Bill 1148 will pass the legislature, and I'm confident the Governor will sign it," said the former Senator. Cogdill thinks the "environmental community will be in charge of trout hatcheries." The organization CalTrout thinks SB 1148 is a good thing.
CalTrout had issued a statement that said SB 1148 "does not diminish funding for hatcheries, would reaffirm AB 7's establishment of the Heritage and Wild  Trout program, would tell Fish and Game to stock fish in areas where they are most needed, and doesn't harm the genetic integrity of existing wild trout populations."
Cogdill said in his opinion the bill will mean that "CalTrout, Trout Unlimited and the larger environmental community will now, in effect, be in charge of the trout programs at the Department of Fish and Game." Cogdill said that the hatcheries will get what Fish and Game decides to give them with "little if any regard for what anglers want." Cogdill points a finger of blame at the Brown Administration.
CalTrout maintains that if the bill passes it will not damage the Eastern Sierra's tourist economy by harm to the hatchery and trout planting programs. CalTrout Conservation Director Curtis Knight wrote that SB 1148 supports hatchery goals which are not currently being met.
As the California Legislature winds down its session, a vote on SB 1148 was expected today.