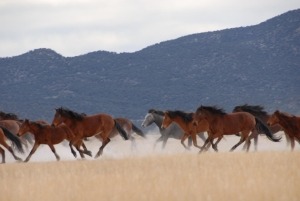 RE: White Mountain Wild Mustangs Dear Sirs: I am a local citizen and representative for the American Wild Horse Preservation. Please help save our local mustangs and let them keep their rightfully deserved homes in the White Mountains! I have driven back and forth from Las Vegas, NV, to visit my relatives, there, for years and know there is plenty of room for these horses in that mountain range and I have never seen a one!
I have seen a few cattle, but, not too many. There is definitley room for them out there. There is no room for the privately owned cattle that destroy our land, though, in my opinion. I understand that in the USFS meeting for changes agenda, coming up at the end of this month, that there is not even a mention about our White Mountain Mustangs.
These noble creatures desperately need their rightful homes re-established and increased from 75 to 150 horses, per acre. It is at least what these noble creatures deserve! Endangering any of our animals in this world is only the most obvious conclusion as to what our extinction will some day become. Please put the Wild Mustangs of the White Mountains in your meeting minutes and save them from slaughterhouses. These beautiful animals need our help, right now. Please, please be part of this urgent preservation, immediately. Your attention to this matter would be greatly appreciated. Thank you.
Sincerely, Debbe L'Angelle, Mammoth Lakes