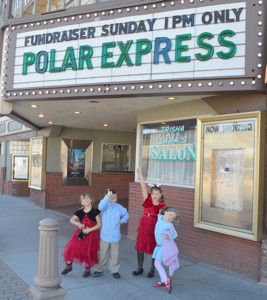 Santa's Coming to Town… In the "Polar Express" Movie!
Enjoy this classic holiday movie with your family and friends! Spend some quality time with your family around the holidays.
Limited engagement, only one showing: Sunday, December 14, at 1pm at the Bishop Twin Theatre. Tickets are only $5.00!
Open to everyone. Buy your tickets before they sell out!
Register on-line www.roundvalleystepfoundation.com or call Lis Mazzu at (760) 784-5461
Do you believe…?
…Brought to you by the RVS STEP Foundation. All proceeds benefit Round Valley School!
The Round Valley STEP (Student Enrichment Program) Foundation is dedicated to improving education for the children of Round Valley Joint Elementary School (RVS) through fundraising to enrich the educational process. The goal of the STEP Foundation is to raise funds to purchase new technology, offer enrichment activities, enhance and construct educational programs at the Round Valley School.
If unable to attend this event, you can still support the Round Valley School with a tax-deductible donation by going to: www.roundvalleystepfoundation.com.