Sandy Reed
1931 – 2019
Sandy passed away at his home in Bishop, CA on February 1, 2019, at the age of 87. Sandy was born in Bishop and raised in Benton. He spent his entire life in the Owens Valley.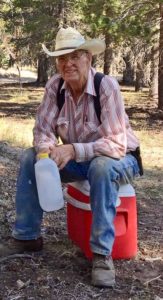 Sandy was a jack of all trades, and could make or fix anything. He worked various jobs throughout his life, from the mill at Millpond to working as the District 1 Road Foreman for Inyo County Road Department in Bishop before retiring. In his later years, one of his favorite hobbies was prospecting for gold, always looking for the big nugget.
Sandy is survived by his wife Nancy of 67 years, daughter & son-in-law, Tom and Laurie Peek, six grandchildren, twelve great grandchildren, and two great-great grandchildren.
Sandy is preceeded in death by his daughter, Terry Sepsey, and grandson, Rahn Harvey.
Graveside services will take place on Wednesday, February 20th at 1pm at the Line Street Cemetery in Bishop. There will be a potluck gathering immediately following at the Elks Lodge, 151 E. Line Street in Bishop.