Sandra L. Ferrey — 1936-2017
Graveside funeral services for beloved wife and mother, Sandra Lee Ferrey, 80, a resident of Bishop for more than 58 years, will be held Friday, July 21, 10:30 a.m. at the East Line Street Cemetery. Father Doug Walker of Santa Rosa Catholic Church will officiate.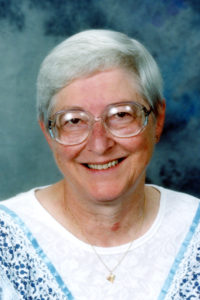 Sandy died July 13th at Northern Inyo Hospital as the result of injuries sustained in a fall.
Born Sept. 7, 1936, in Cherokee, Iowa to Clarence E. Jensen and the former Jessie E. Olmstead, Sandy was raised in Primghar, Iowa, where her parents operated a dry cleaners shop. A tomboy at heart, Sandy spent the days of her youth excelling at sports, spending time with her friends, and happily living small town life alongside her brother Bob and sister Betty Lou.
After graduating from Primghar High School in 1954, Sandy came to California to study Commercial Printing at Los Angeles Trade Tech. There, she met Robert H. "Bob" Ferrey and quickly fell in love with her fellow student. They married Oct. 6, 1955, in Primghar.
After briefly living in Iowa and South Dakota, the couple returned to Bishop and both went to work at Chalfant Press, Bob as a compositor and Sandy as a linotype operator. Sandy's linotype skills were somewhat legendary among local printers, as she could hold a conversation, read copy, and rapidly set the hot lead type without error all at the same time. Both stayed with Chalfant Press for many years, operating various printing equipment, including the newspaper web presses. The coupled retired from printing in 2005 with Sandy putting in more than 45 years as a commercial printer.
The couple had one daughter, Barbara, in 1964, leading Sandy to be a stay-at-home Mom for 13 years. During that time, she was active in Barbara's childhood activities, serving as a School Room Mother and Brownie Troop leader. She enjoyed cooking, crafting and spending time with local friends. Sandy returned to work so she could help put her daughter through the University of Nevada-Reno.
In retirement, Sandy enjoyed spending time with Bob, as well as Barbara and son-in-law Paul. She also enjoyed dabbling with computers and communicating via email and text with family, childhood friends, and with her former Chalfant Press co-workers. She avidly followed sports, especially college teams like UCLA and UNR.
Sandy was a lifetime member of the Veterans of Foreign Wars Post 8988 Auxiliary. After Bob's death in 2015, she preferred to stay close to home and the neighbors she adored. The highlight of her week was going out to dinner with Barbara and Paul, hitting local restaurants such as La Casita (owned by Paul's family), The Back Alley, Upper Crust and Perry's Italian Café.
Survivors include daughter and son-in-law, Barbara and Paul Laughon, of Bishop; brother Robert Jensen and his wife, Meda, of Florida; sister Betty Lou Grafton of Iowa; sister-in-law, LouAnn Lovelace of Bishop; and six nieces and five nephews.
Instead of flowers, donations to the VFW Post 8988 Auxiliary; Laws Railroad Museum; or the Veterans Helping Veterans organization are welcome.