Samantha Riesen, a 2015 Bishop High School graduate, will continue her softball career at West Texas A&M University.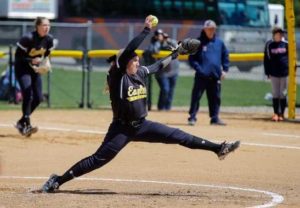 Riesen spent the last two years at the College of Southern Idaho in Twin Falls, earning an associate of arts degree and pitching for the Golden Eagles. Over her two seasons at CSI, the Golden Eagles were 84-36. This past season, Riesen finished the year 19-7, pitching 148.2 innings with 87 strikeouts en route to earning first-team All-Region 18 honors. She also made the Dean's List for both the fall and spring semesters.
West Texas A&M, in Canyon, Texas, is one of the top softball programs in NCAA Div. II. The Lady Buffs, the 2014 national champions, concluded the 2017 season ranked fourth in the country.
Riesen will major in exercise science with plans to become a physical therapist.