SAM DEAN
1933-2017
Sam was born January 19, 1933 in Chilton, Texas at home on the farm, to Ocie and James Dean. He only weighed 2 ¼ lbs. Ocie put him in a shoe box on the wood stove oven door which acted as an incubator. It was that beginning which formed the strong, determined, wonderful man he became.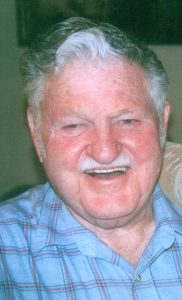 Sam came to California in his early teens, fell in love with the Eastern Sierra's and started Dean's Plumbing and Heating in 1965.
He dedicated his life contributing to the community in many capacities.
He served as Inyo County District 3 Supervisor, he sat on the Bishop City Council, the Bishop Planning Commission, he served on the Tri-County Fair Board for over 20 years, he was on the Executive Board of Mule Days for over 40 years, his desire is for the Mule Museum to be completed for future generations. He was heavily involved in both non-profit organizations, Advocates for Access to Public Lands and the Adventure Trails. He has been a very active member in Lion's Club for many years, dedicating hours and good cheer to any project he was involved in. He received the Highest Recognition for outstanding effort on behalf of Eye Mobile, Inc. He was a Deacon of the First Southern Baptist Church.
Sam truly was a giver, always willing to help a friend.
Sam enjoyed Waterskiing, Fishing, Hunting, and Camping with his Wife, Children, Grandchildren, and Great-Grandchildren.
Sam is survived by his wife of 38 years, Pat Dean
Son and Daughter-in-law, Mike and Marydawn Dean
Daughter and Son-in-law Debbie and Steve Hayward
Daughter and Son-in-law Lynda and Mark Sargent
Daughter and Son-in-law Susan and Randy Gillespie
Son Jim Gidney and friend Robinn Sparks
13 Grandchildren and 21 Great-Grandchildren
Sam was preceded in death by his son Rick Dean.
Sam passed peacefully on April 3, 2017 at Carson Tahoe Hospital surrounded by his loving family.
All who came in contact with Sam were blessed with his Generosity and Goodness.
He will be Greatly Missed.
In Lieu of Flowers, donations can be made to: Carson Tahoe Health Foundation/Merriner Cottages. P.O. Box 2168, Carson City, NV 89702
A celebration of life will be held at the Neighborhood Church on Tuesday April 11th 2017 at 11 AM, reception to follow.