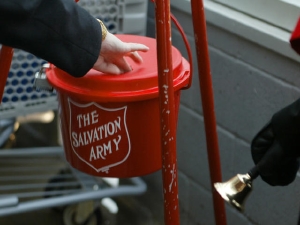 More today on the Salvation Army in Mammoth Lakes. Co-ordinator Roger Barker underscored that they would welcome bell ringers to work the Salvation Army kettle at Vons. It's cold work with a warm reward.
Funds from the kettles this time of year help to support ongoing Salvation Army efforts. One of those is a food pantry. It is located at 220 Sierra Manor Road next to Higerd Plumbing. Barker said that donations of food staples to the pantry are very welcomed. Eastern Sierra wide, use of food pantries has gone up with even some of those who have jobs unable to make ends meet.
Barker said volunteers are also needed to work the food pantry. For those who want to volunteer at the food pantry or as a bell ringer, Call Roger Barker at 760-937-5190.