Press release
BISHOP, CA (October 27, 2015): Due to increasing project costs exceeding available resources, The Salvation Army will put on hold plans to construct a new, permanent facility on Mac Iver Street in Bishop. The Salvation Army met with key stakeholders yesterday, to review options to raise additional funds needed to fulfill the project budget, or to identify a suitable existing property for renovation to meet the needs for both corps and thrift store operations.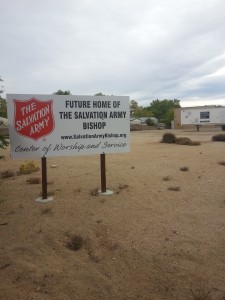 "The Salvation Army will continue to work with community leaders to determine the next steps toward finalizing this project," said Lt. Col. Cindy Foley, Divisional Leader of The Salvation Army's Golden State Division. "We're hopeful the community can help us find a solution."
The Salvation Army, which has served Inyo and Mono Counties since 1997, rents two locations in Bishop to operate its critical safety net services, worship programs, and thrift store operations. The intent of the new facility was to alleviate the ongoing costs of leasing space, while providing an adequate space to meet the expanding needs of the community.
The Salvation Army provides a variety of services to the local community, including assisting families and individuals in emergency situations with basic human needs such as emergency food, clothing, health services and shelter. Volunteer job training, youth programs, marital and personal counseling are also provided, as well as referrals to rehabilitation programs. Seasonal assistance is offered through The Salvation Army during the holidays, providing meals, food boxes, clothing and toys to families and individuals in need.
The Salvation Army has a team of disaster response trained volunteers on stand-by, ready to deploy and assist with both local and regional disasters, including forest fires and large-scale accidents on Highway 395 (an example being the Swall Fire earlier this year). And finally, The Salvation Army offers affordable goods through its Family Thrift Store, and sales from the thrift store help fund local programs.
Despite the delay of construction, The Salvation Army will continue operations in existing leased space on W. Line Street and N. Main Street. All contributions toward the building capital campaign have been earmarked accordingly and are being held for when this project is ready to move forward. No building capital campaign monies have been used to fund daily operations.
More information about the programs and services offered by the Salvation Army of Bishop can be found online at www.SalvationArmyBishop.org, or on Facebook at www.facebook.com/SalvationArmyBishop.
###
About The Salvation Army
The Salvation Army, an evangelical part of the universal Christian church established in London in 1865, has been supporting those in need in His name without discrimination for 130 years in the United States.
Nearly 30 million Americans receive assistance from The Salvation Army each year through the broadest array of social services that range from providing food for the hungry, relief for disaster victims, assistance for the disabled, outreach to the elderly and ill, clothing and shelter to the homeless and opportunities for underprivileged children. 82 cents of every dollar The Salvation Army spends is used to support those services in 5,000 communities nationwide. For more information, go to www.SalvationArmyUSA.org.